Community Building
ELCM Job & Internship Fair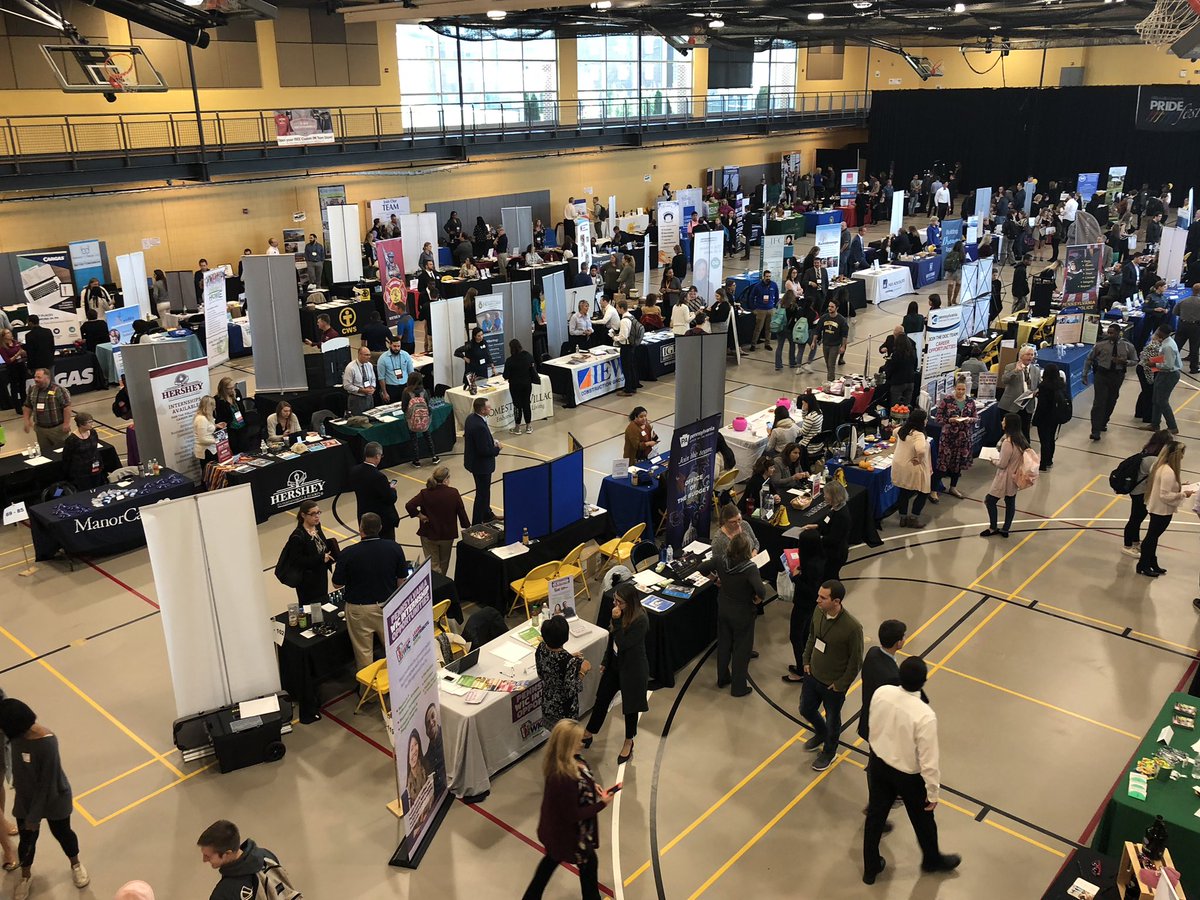 (Shot of 2018 ELCM Job & Internship Fair)
The Office of Experiential Learning and Career Management (ELCM) hosts a Job & Internship Fair every semester where MU students and alumni can connect with employers for both full-time and part-time employment as well as internship opportunities. Recruiting representatives that are looking to fill positions set up timeslots to meet with attendees. Some notable companies that have been a part of the ELCM Job & Internship Fair are:
Aerotek,
Community Action Partnership of Lancaster County,
Excentia Human Services,
Fulton Financial Corporation,
Lancaster County Youth Intervention Center,
Pennsylvania Department of Corrections,
Sherwin-Williams,
Valley Health System,
and more!
This is just one of many fairs that ELCM hosts. They also host a Graduate School Fair annually in the fall with over 70 graduate schools and programs represented. The University also participates in a number of other employment consortiums and partnerships, including the Central Pennsylvania Employment Consortium (CPEC) job & internship fair is held annually in February.  Teacher Recruitment Day, specifically for graduating education majors and alumni, is held every spring featuring over 120 area school districts seeking to recruit educators.
Needless to say, these amazing events are available to students free of charge and offer a range of opportunities. They are also frequently accompanied with food and festivities as well.
Organization Outbreak
(Advertisement from 2019)
Organization Outbreak is another exciting way to build community here at Millersville. The Center for Student Involvement and Leadership (CSIL) proudly holds an "Org Outbreak" every semester to connect students with the more than 150 clubs and organizations on campus. Why get involved? Studies have shown that students who get involved on campus:
Transition to college more smoothly,
Make friends faster,
Excel academically,
Are more likely to persist from year-to-year,
Are happier with their college experience.
And the perfect way to get involved is to join a club or organization. Org Outbreak's festival-like atmosphere engages students with one another as well as faculty and staff, including opportunities for students to pick up some free swag and snacks. For a college student, it doesn't get any better than free food, prizes, and games, all while enjoying the opportunity to meet new people with similar interests and exploring the many clubs and organizations available to students.
50 Days Celebration
(Example flyer from 2019)
The 50 Days Celebration is a means for us at Millersville University to connect with students mid-way through the semester. The purpose of these celebrations is two fold:
Provide positive reinforcement and encourage a growth mindset in first-year and new transfer students by celebrating with them their achievement of completing the first seven (7) weeks of the semester.
Introduce (or reintroduce) campus resources which they may find useful in completing their first semester at Millersville University.
There is only so much information that students can absorb throughout their Orientation experience, and studies have shown that in most cases, they really only remember what is most immediate for their needs. Information including where to get a flu shot, how to register for classes, what research opportunities exist at the library, and financial literacy can sometimes go amiss during a student's transition to college and the 50 Days Celebration is our chance to ensure they have access to this critical information while also celebrating their successes thus far. Upon reviewing feedback provided by first-year students in several of the Exploratory sections of the University 103 seminars, a theme emerged; while many students were satisfied with the help they received at the start of the semester, some felt unsure of what resources they might need to resolve new challenges like registering for classes or how to access those resources. While students may recall hearing about different resources, the 50 Days Celebration offers a helping hand mid-semester to make the connection.
The 50 Days Celebration includes games, prize drawings, lots of food, and giveaways, in addition to the helpful information that is provided to students along the way. Some of the offices and resources that have been featured are:
Registration,
Health Services,
Center for Counseling and Human Development,
Center for Student Involvement and Leadership,
Office of Learning Services,
Department of Academic Advisement and Student Development,
Experiential Learning and Career Management,
Millersville Dining and Conference Services,
Writing Center at MU,
Student Government Association,
Transfer Student Association,
Commuting Student Association,
and so much more!
Our goal is to hold this event annually so that each student is given the tools to succeed at every step of their journey and feel encouraged that they have made it this far. That is what 50 Days Celebration is all about!