Buildings and Facilities
Here you will find a list of all the buildings and facilities owned and operated by the Millersville campus. They are broken down by use and listed alphabetically.
Academic Buildings
Bassler Hall – Bassler Hall, built as an extension of Myers Hall to house the Geography Department, was named for Henry M. Bassler (1926-1957), Assistant Professor and Chairman of the Geography Department. He was the first active professor to have a professional society name for him, the Bassler Geographic Society. It underwent major renovations in 1996 and is now a part of the Velma A. Dilworth McCollough and Clair R. McCollough Communications Complex and Broadcast Studio.
Breidenstine Hall – Breidenstine Hall houses the Art Department and was named for Aaron G. Breidenstine (1955-1966), Dean of Instruction. It also houses the Swift Gallery named for Margaret Swift (1927-1958), a professor of art education, and the Sykes Gallery, named for Ronald E. Sykes (1956-1998), a professor of art and former chairman of the department. This building is comprised of specialized art studios (ceramics, fine-art metals, painting, printmaking, and sculpture), two art galleries, two iMac computer labs, and a lecture hall. Breidenstine Hall is the center of inspiration, creativity, innovation, and passion at Millersville University.
Brossman Hall – Brossman Hall, built in 1994 is part of The James P. and Tasia K. Argires Science Complex, houses faculty offices, a classroom, a computer laboratory and laboratory space for oceanography and geology.
Caputo Hall – The 88,000 square foot Caputo Science Hall was opened in the fall semester, 1999. This contemporary science facility houses the departments of biology, chemistry, nursing, physics, and the meteorology program. It includes 26 Science Teaching Laboratories, 26 Student/Faculty Research Laboratories, 1 High Tech 150 seat Teaching Auditorium, 4 Classrooms, 1 Student Study Lounge, 1 Student Café and Lounge, 3 Conference Rooms, and 39 Faculty Offices. 
Chryst Hall – Chryst Hall is named in the honor of J. Freeland Chryst in 1993 and the facility now houses MU's writing and tutorial centers, a lecture hall, and English Department administrative and faculty offices.
Dutcher Hall – Dutcher Hall is presently the oldest building on campus built in 1890. Dutcher Hall served as the first gymnasium and later as the student union (the "Rat"). It was begun in July 1890 and a full description was shared in the November 1890 Normal Journal. In 1974 it was rededicated and named for Dean Dutcher (1927-1952), professor of social studies, chairman of the Social Studies Department, and a developer of the college testing program.  In 2006, Dutcher Hall was renovated and expanded. It is presently home to the Theater department and contains several theaters/small auditoriums as well as faculty offices.
Francine G. McNairy Library and Learning Forum (at Ganser Hall) – The Francine G. McNairy Library and Learning Forum was originally known as Ganser Library. The new Library was formally announced in 1965 and officially opened with a bookwalk in 1967. It was named for Helen A. Ganser (1911-1952), librarian and head of the Library Science Department. Also located in the building is the Esther Risser Whitely Room, a reading room for Special Collections, named for Esther Risser Whitely (1952-1972), reference librarian and the Doris Keller Hosler Classroom, named for Doris Keller Hosler (1968-1988) who began the bibliographical instruction program.  In 2011-2013 the Library underwent a major renovation and in October 2013 was rededicated as the Francine G. McNairy Library and Learning Forum with the tower being known as Ganser Hall.  In 2017 the Writing Center consolidated its two sites,  opening on the first floor of the Library.  The grand opening was held in September 2017.
Gerhart Hall – Gerhart Hall was named for Arthur R. Gerhart (1928-1955) who taught botany and biology and was Chairman of the Department of Natural Sciences.
Hash Building – Charles and Mary Hash Building was built as the Model School to serve pupils of the community as well as the students of the normal school for practice teaching. Plans for the new Model were announced in the November 1899 Normal Journal. The building opened for use in the Fall of 1901. In 1921 the Training School library opened. In 1968 it was rededicated as Myers Hall, named for Carrie E. Myers (1885-1923), an 1884 graduate of the normal school who joined the faculty of the Model School and became its superintendent. In 1996 this building underwent major renovations and was dedicated as the Charles and Mary Hash Building. Along with Bassler Hall these buildings are known as the Velma A. Dilworth McCollough and Clair R. McCollough Communications Complex and Broadcast Studio. It houses classrooms and faculty offices for much of the Communications department and Multidisciplinary Studies program as well as broadcasting facilities for the MUTV station.
Jefferson Hall – Jefferson Hall was originally dedicated as Stayer Research and Learning Center, for Samuel B. Stayer (1916-1953), a 1913 and 1914 graduate of the normal school who taught mathematics, was Dean of Men, Director of the Training School, and head of the Education and Psychology Department. In 1991 the name was changed to Stayer Education Center and in 2008, the building was renamed Jefferson Hall. It currently houses Athletic faculty offices, training facilities, and the MU Costume Shop.
McComsey Hall – McComsey Hall was named for Sanders P. McComsey (1927-1955), a graduate of the college, professor of English and Dean of Instruction, and co-author of the Alma Mater of the college. It underwent major renovations and expansion in 2002 and again in 2010. McComsey Hall is home to the Geography department, along with the departments of Accounting & Finance, Economics, Foreign Languages, History, Management & Marketing, and Philosophy. McComsey Hall houses the Office of the Dean of Arts, Humanities and Social Sciences, 17 classrooms, 2 computer labs (1 PC lab and 1 dual-booting Mac lab), Myers Auditorium, the Ford Atrium, departmental offices, meeting spaces, and faculty offices.
Osburn Hall – Osburn Hall, was named for Burl Ness Osburn (1932-1962), a professor of Industrial Arts and head of the department. He brought national and state recognition of Millersville's department of Industrial Arts and wrote five books on industrial arts. In 2002 the building underwent major renovations and was expanded. It houses the Industry and Technology Department and the Eshelman Wood Laboratory, named for Paul W. Eshelman (1947-1972) a professor of industrial arts. The improved Osburn Hall, home of the Applied Engineering, Safety & Technology department, underwent a total lifecycle renewal and expansion that began with the Spring of 2003. All major systems were replaced, and two additions were made to the building. Spring 2004 opened with the excitement of a new facility that was expanded to an over 70,000 square foot center for the study of technology. Today, Osburn Hall has main entrances on all three levels. Space inside has been allocated according to the technology cluster of communications, energy/power/transportation, production (manufacturing and construction), and occupational safety and environmental health.
Pucillo Gymnasium – Pucillo Gymnasium is a multipurpose indoor athletics building named for John A. Pucillo (1925-1957), professor and Director of Health and Physical Education, coach, and Director of Athletics. In 2017 the lobby underwent extensive renovations and was renamed the Anttonen Athletics Lobby in honor of Dr. Ralph (Doc) and Judith Anttonen at a dedication ceremony held 15 November 2017. Millersville's main athletic indoor space for basketball, swimming, and more are held in this building.
Roddy Hall – Roddy Science Center is the home of the Biology, Chemistry, Earth Sciences, and Physics Departments and of offices of the Dean of the School of Sciences and Mathematics was named for H. Justin Roddy (1887-1926), an 1881 and 1896 graduate of the normal school, who taught geography and geology and was of the Science Department. The building also houses the Engle Physics Laboratory, named for Daniel G. Engle (1955-1974), a professor of physics. In 1997 the building underwent major renovations and expansion and is now a wing of the Science and Technology Building. Renovation of the 55,000 square feet Roddy Science Hall was completed in January 2001. Roddy Hall houses the botany and ecology programs, geology, computer science, and physics. It includes 13 Science/Computer Science Teaching Laboratories, 14 Student/Faculty Research Laboratories, 2 Large 108 seat Auditoriums, 7 Classrooms, 1 General Purpose Computer Laboratory, 1 Seminar/Study Room, 9 Specialty and Support Rooms, and 13 Faculty Offices.
Stayer Hall – Stayer Hall was originally known as Landes Hall, a dormitory for both men and women and named for Amanda Landes (1885-1920), the valedictorian of the class of 1885, who joined the faculty upon graduation and became head of the Reading and Elocution Department. In 2008, Landes Hall was renovated for classroom use for the School of Education and rededicated at Stayer Hall, the first green building on campus. It is presently the home of the Education department and various faculty offices and classrooms.
Susan P. Luek Hall – Susan P. Luek Hall (former Byerly Hall) houses the University's psychology department. Established in 1929, the building originally served as the laboratory school for the college, and the junior high school for the community. It was first named after Andrew R. Byerly, an 1855 normal school graduate and English department faculty member. Byerly's legacy will live on as a study lounge within the building, which will receive his name. In 2017 it was renamed the Susan P. Luek Hall in honor of the lifetime support of the professor of psychology at Millersville University.
Wickersham Hall – Wickersham Hall was the principal classroom building for a number of years. James Pyle Wickersham (1855-1866) was one of the founders of the normal school and served as its second Principal. Wickersham Hall houses the Department of Mathematics including mathematics classrooms, a Mathematics Department computer laboratory, and offices for the mathematics faculty. Wickersham Hall was renovated in 2006.
Winter Visual and Performing Arts Center – Lyte Auditorium is a site of major cultural activities on campus and classes in music and other subjects. Eliphalet Oram Lyte (1868-1912) was an 1868 and 1876 graduate of the normal school. He taught rhetoric, bookkeeping, pedagogy, and grammar before becoming Principal in 1887.  In 1998 it was renovated and renamed Alumni Hall and Lyte Auditorium.  The building underwent a major renovation and expansion in 2010-2012. In the Spring of 2012, it was announced the building would be rededicated as the Dr. Charles R. and Mrs. Anita B. Winter Center. The Dr. Charles R. and Anita B. Winter Visual and Performing Arts Center hosts cultural and artistic events at Millersville University in Millersville, PA. Featuring 2 large concert halls, art gallery, large recording studio, 2 smaller cloud-connected recording studios, state-of-the-art Yamaha Clavinova piano lab, dance studio, and dedicated spaces for instruction and practice by our students, the Winter Center is the hub of creative and artistic expression on our campus.
Administrative Buildings
Biemesderfer Executive Center – Biemesderfer Center, which served as the Millersville University Library from 1894 to 1967, is one of the most beautiful and dignified buildings in the Lancaster area. The building, renamed in honor of Dr. D. Luke Biemesderfer, president of Millersville from 1943 to 1965, now houses executive offices of the University administration. In 1975 it was designated a historical site by the Historic Preservation Trust of Lancaster County. This building houses the President's office, Board of Trustees Board Room, and several smaller offices along with a great deal of Millersville history.
Boyer Building – Boyer Computer Center was originally built as the Boiler House. It was rededicated in 1979 as Boyer Computer Center and was named for Lee E. Boyer (1934-1957), a professor of mathematics and head of the department. The Boyer Building boasts the ID card services and the Campus Mail Service. Should your student need to pick up a large package that can't be delivered to their dorm or if your student needs to replace your ID card, they would go here to do that.
Dilworth Building – Dilworth Administration Building was named for Homer Dilworth (1912-1941), English professor and Chairman of the English Department. He also served as Vice-Principal. In 1927 he was named the first Dean of Instruction and remained in this position until his retirement. At present, Dilworth houses the Payroll office, the Office of Student Accounts, and Human Resources for the University.
Gordinier Hall and Bolger Conference Center – Gordinier Dining Hall contains several dining rooms, kitchens, offices for the food services staff, and a student post office. It was named for Charles H. Gordinier (1911-1929), head of the Classical Languages Department and later Principal of the normal school and first President of the College.  It was renovated and expanded in 1987-1988 with the new Conference Center opening in 1988, named for Board of Trustees President, William H. Bolger.  Over the years, the dining facility has undergone numerous updates.  In 2016 the building was renovated and expanded with a new entrance facing the new dorm suites. It also houses several of the on-campus dining options known as the Anchor (first floor), Saxbys Coffee Shop (first floor), and the Upper Deck (second floor).
Lombardo Welcome Center – The Lombardo Welcome Center is the first building in Pennsylvania to be certified as a zero-energy building by the International Living Future Institute and only 1 of about 100 zero energy buildings in the country. The unique building produces its own energy onsite through renewable energy sources and stands as a clear testament of Millersville's commitment to sustainability and to our goal of pursuing carbon neutrality by 2040. Lombardo holds all of the Admissions offices and representatives, Housing and Residential Programs offices, and other administrators. It also houses the Director of Orientation Services, Christopher Jachimowicz.
Lyle Hall – Lyle Hall served as a woman's dormitory and now houses administrative offices. Anna Lyle (1873-1919), an 1866 graduate of the normal school, was a teacher of elocution and history. One can find the Registrar's office, Financial Aid office, Counseling Services, Learning Services, Academic Advisement, and Graduate Studies offices all in this building.
Student Memorial Center – The Student Memorial Center houses a variety of rooms for activities for students and others as well as offices for student organizations. It was named for all students, alumni, faculty, and staff who have served in the armed services of the United States. It has been renovated and expanded twice. Our largest gymnasium known as Marauder Courts as well as the student fitness center are housed here as well.
Tanger House – Tanger House was built in 1930 and was known as President's House until it's rededication in 1999. It was designed by C. Emlen Urban and has served as the home of the president since its original dedication. Landis Tanger was the first president to live in the house.
Witmer Building (Health Services) – Witmer Infirmary, the college medical facility, was named for Dr. C. Howard Witmer, a 1902, 1904, and 1905 graduate of the Normal School and prominent physician in Lancaster County. Millersville University Health Services is dedicated to ensuring healthy living and studying environments at Millersville University.  Academic success and personal growth can only be enhanced through a healthy campus community. Health Services is committed to promoting healthy lifestyle choices, preventative medicine, and health education.
Athletic Facilities/Outdoor Facilities
Bennett J. Cooper Park (Baseball Field) – Cooper Park hosted its first game on March 25, 2007, a Millersville 16-6 win over Philadelphia University. The park features a climate-controlled press box with facilities for audio and video broadcasts, a grandstand to support 250 fans, a state-of-the-art irrigation system, and a sound system. In the fall of 2016, a FieldTurf infield was installed and renovations were made to both dugouts. The facility, built initially for $1.7 million in 2007, includes four batting cages and four bullpen mounds. The program moved into a clubhouse directly behind the grandstand in the spring of 2012. Formerly offices, the building was reworked to include lockers, meeting rooms and coaching offices. The park, known as Marauder Park for the majority of existence, received an official name change on April 20, 2013. A dedication ceremony revealed the name as Bennett J. Cooper '67 Park in honor of the former Marauder baseball player for his generous gifts to the program. New signage on the press box as well as a plaque and a banner in left-center field were unveiled.
Biemesderfer Stadium and Chryst Field – Biemesderfer Stadium was originally constructed in 1958 with a capacity of 6,700. It was named in honor of Dr. Daniel Luke Biemesderfer, who served as Millersville's ninth president from 1943 to 1965. Chryst Field was named after J. Freeland Chryst '50 following a gift that was made on behalf of his daughter, Dana Chryst '81 and the Jay Group. The formal dedication of Chryst Field took place on Saturday, Oct. 8, 2005. Chryst Field at Biemesderfer Stadium, which is home to the Marauder football, field hockey, soccer, lacrosse, and track and field teams, was completed as part of a major renovation to Biemesderfer Stadium in 2005. A modern synthetic turf surface (FieldTurf) and a new polyurethane eight-lane track and infield jump/vault areas were installed.
Brooks Field – Brooks Field is located near the pond on campus and is mostly used for the Rugby teams and for practicing along with student recreation.
Carpenter-Trout Athletic Training Center – This 5,000 square foot freestanding building, located adjacent to the University's Biemesderfer Stadium, represents the first phase implementation of MU's Athletic Facilities Feasibility Study. The light-filled space accommodates cardio, fitness, and free-weight equipment for use by the University's intercollegiate athletes.
McComsey Tennis Courts – The Marauder tennis teams compete at the McComsey Courts, which were recently resurfaced to in 2011. McComsey Courts have stands to accommodate 250 spectators, located at the west end of the facility adjacent to court No. 1. It is located in the heart of campus, across from the Student Memorial Center. The facility includes six courts.
Pucillo Field Complex – The Pucillo Field complex includes a competition soccer stadium and an 80-yard practice football field for use by intercollegiate athletics and campus recreation. In early 2014, Millersville University Student Senate approved $2.5 million for the project from funds remaining from the Student Memorial Center renovations. Groundbreaking took place in April of 2014 and the facility was completed in time for the 2014 fall season.
Seaber Softball Stadium – Seaber Softball Stadium was renovated for play in 2008 but received its name on April, 2017 during a dedication ceremony. The stadium was named in the honor of Kathy Hughes Seaber and her late husband, Sam Seaber, Jr. The Seaber/Hughes family is a long-time supporter of Millersville University. Seaber Softball Stadium has hosted Pennsylvania Interscholastic Athletic Association (PIAA) District 3 Tournament games since 2009 and was selected as the 2009 Keystone Athletic Field Managers Organization (KAFMO) Field of Distinction for its safety, appearance, and playability.
Residence Halls/Affiliated Housing
Brookwood Court Apartments (Affiliated Housing) – When looking for a convenient, affordable alternative to dorm living, it's not necessary to lose contact with your friends. Place Brookwood Court Apartments at the top of your list, the apartment complex that is operated with Millersville University students and parents in mind. Brookwood Court Apartments is conveniently located near Millersville University. It is approximately a five-minute walk to the MU campus.

East Village – East Village is one of the main residence hall suites on campus. Further information about its amenities and room selection information can be found if you click here.
Healthy Living Apartments (Affiliated Housing) – These apartments were designed based on former MU student's ideas. Tenants must sign a wellness agreement to be eligible to live in these apartments. Educational programs for tenants are provided by the MU Wellness Center and the SMC Fitness Center. Participation in educational programs is voluntary. The Healthy Living apartments are located adjacent to Millersville University within easy walking distance of the classrooms.
Reighard Hall (Affiliated Housing) – Reighard Hall is one of the affiliate residence hall suites on campus. It houses the Living Learning Communities (LLC) of the Army Reserve Officers' Training Corps (ROTC) students as well as students in the Pre-Scholars Summer Institute (PSSI) program, Lancaster Partnership Program (LPP), and student who attended the Milton Hershey School. Further information about its amenities and room selection information can be found if you click here.
Shenks Hall (Affiliated Housing) – Shenks Hall is one of the affiliate residence hall suites on campus. It typically houses upperclassmen. Further information about its amenities and room selection information can be found if you click here.
South Village – South Village is one of the main residence hall suites on campus. The Honors College Living Learning Community (LLC) is housed in two of the wings of this building. Further information about its amenities and room selection information can be found if you click here.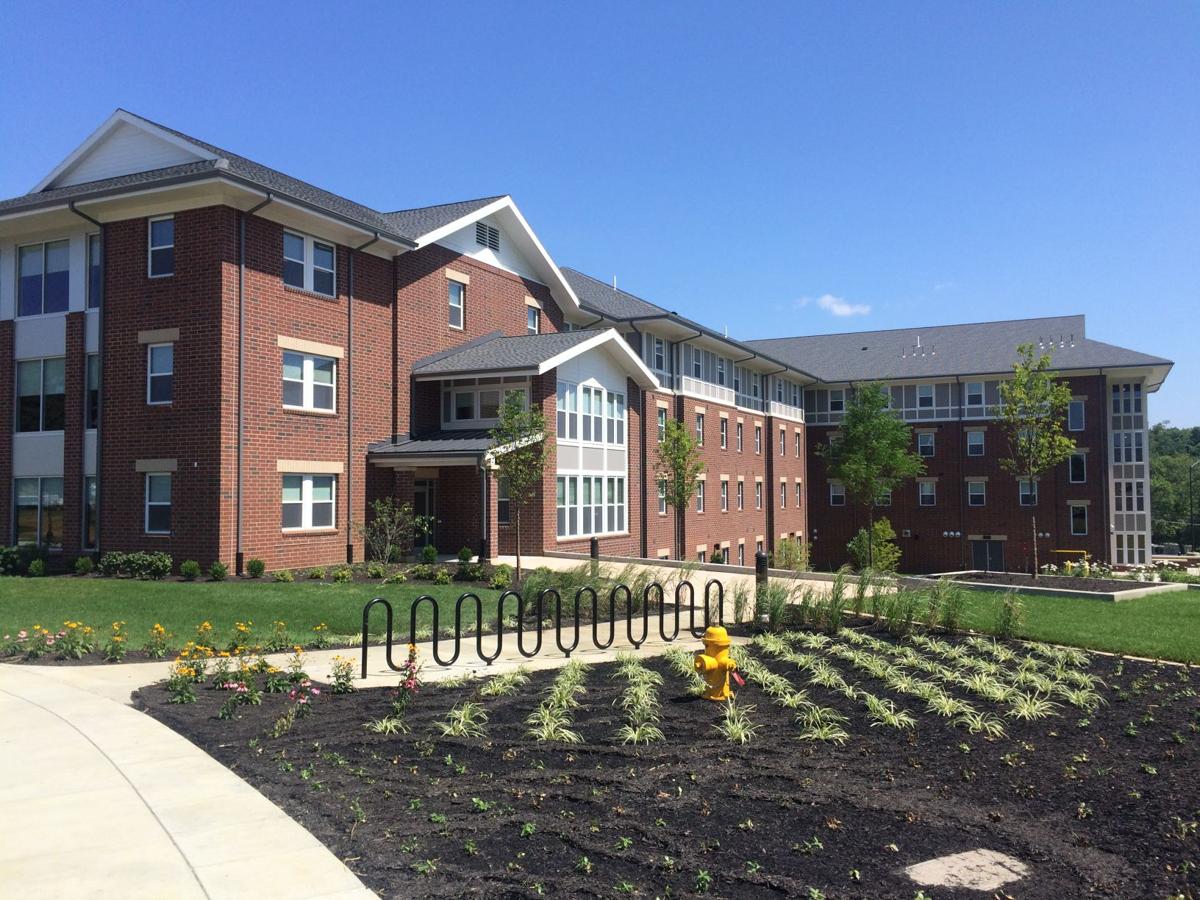 West Village – West Village is one of the main residence hall suites on campus. Further information about its amenities and room selection information can be found if you click here.
Educational Resource Houses
Adams House – Located in the Adams House, the Entrepreneurial Leadership Center (ELC) is the home of the entrepreneurship minor. They work to advance entrepreneurship education, training efforts, and facilitate support of entrepreneurial endeavors both on campus and in our community. They also offer free printing to students, in black and white and in color.
Bedford House – Bedford House is one home of the Experiential Learning and Career Management (ELCM). This office provides student-centered career programs, experiences, and learning opportunities to assist students in achieving their personal and professional goals. Among their services are faculty members that can help students find internships, explore careers, volunteer in the community and participate in partnerships. Their virtual services include resumé and cover letter critiques (via email or Zoom), Linkedin profile feedback, mock interviews, and career counseling. More information can be found at their website.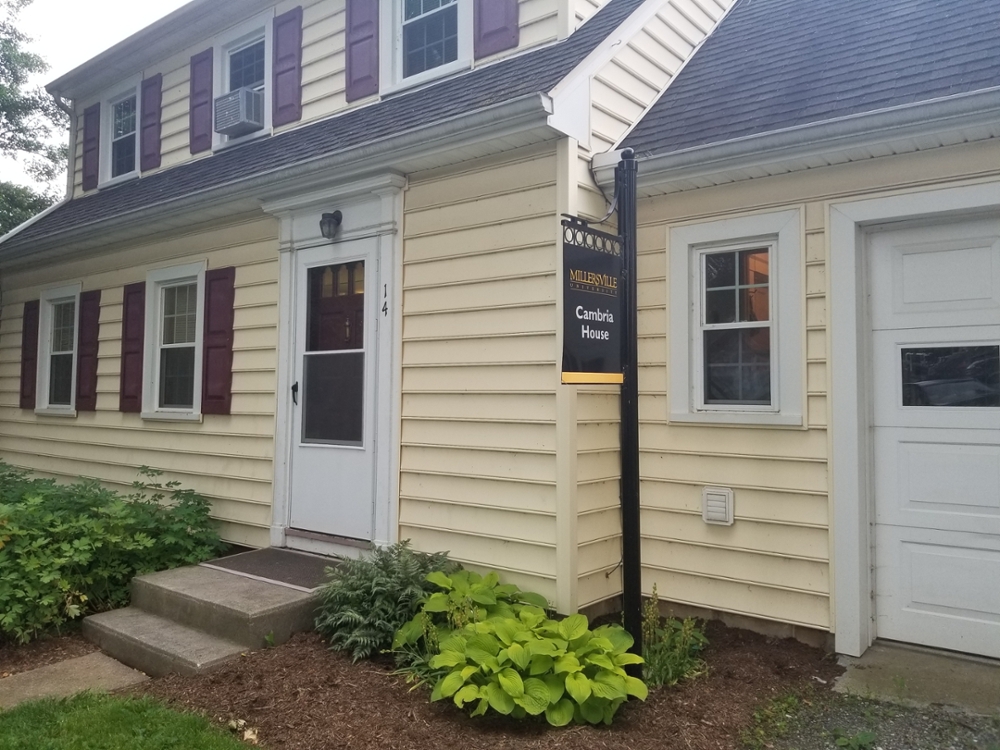 Cambria House – Cambria House is the ideal place for academic departments to provide short-term accommodation to international partners, guest speakers, visiting scholars, and faculty, whose activities align with the mission of the Office of International Programs & Services (IPS). Cambria House is located at 14 East Ann Street, Millersville, PA, is a cozy, fully-furnished, carpeted, two-story, three-bedroom home, and features a living room, fully-equipped kitchen and laundry, and full bath.
Chester House – The Office of Student Access and Support Services (SASS), located in the Chester House, is home to the Lancaster Partnership Program, the Pre-Scholars Summer Institute, and the Millersville Scholars Program. SASS provides services for any student in one of their programs who may need additional support to successfully navigate their four-year college experience.
Columbia House – Columbia House is the home of the Army Reserve Officers' Training Corps (ROTC) program. This program was established in 1974 and has a partnership with Dickinson College. Together, they are known as The Blue Mountain Battalion. Students from York College of Pennsylvania and Franklin & Marshall College can also participate in the ROTC program at Millersville.
Cumberland House – The Elsie S. Shenk Center for Health Education and Promotion provides lifestyle education programs, hosts awareness events, and information tables, and provides educational resources to students on a wide collection of topics including alcohol and other drugs, body image, dating violence, domestic violence, healthy relationships, safer sex, sexual assault, stalking, and stress.  Students are trained as peer educators to reach out to the campus community and provide individuals with important information on the benefits of leading a healthy lifestyle, resources and services available at Millersville University, and how to safely make the most out of their college experience. Millersville University provides advocates located in the Cumberland House as well on Mondays and Tuesdays. These services are available to assist students who may need assistance. More information can be found here.
Dauphin House – Dauphin House currently holds various English Department offices for faculty.
Duncan Alumni House – The Alumni House at 205 North George Street was purchased by the Alumni Association.  The house had been built in 1915 and prior to being purchased by the Association, it had been the home of Clyde V. Musselman (Class of 1928).  In 1983, the house was donated to the University by the Alumni Association. In 1990-91 it was renovated and expanded. On 28 October 1995 it was rededicated as The Duncan Alumni House, honoring Dr. William and Alma Duncan.
Franklin House – The Franklin House is the home to the Honors College Director's and Secretary's offices, student study space, and Honors Resource Center.
Fulton House – Fulton House is the home of the Government and Political Affairs department offices.
Huntingdon House – Huntingdon House is the home of the Civic and Community Engagement and Research Program (CCERP), the Center for Public Scholarship and Social Change (CPSSC), Volunteer Central, and the other base of operations of the ELCM office. If you'd like more information about ELCM, review the description of the Bedford House above. If you'd like more information about CCERP or CPSSC, click the links above.
Lancaster House – One can find the Center for Disaster Research and Education (CDRE) in the Lancaster House. They take great pride in its association with a number of educational and research projects across the nation. For more information about the initiatives and resources the CDRE provides, click here to visit their website.
Lebanon House (Police) – Lebanon House is where the Millersville University Police Department is located. They have a variety of resources available there as well that one can learn more about at their website.
Mercer House – The Veterans Resource Center is located in the Mercer House. Many transfer students come to Millersville after spending time in the military. Millersville has dedicated people trained to provide the best information to our active duty and military veterans. For more information, visit their website here.
Mifflin House – The Mifflin House is home to the Migrant Education Program which provides instructional and support services to children in Berks, Lancaster, Lebanon, Lehigh, and Northampton counties. To learn more, click here.
Nichols House – Located next to Caputo/Roddy Halls, Nichols House includes the Earth Sciences department offices and the Remote Sensing and Imaging Laboratory.
Schuylkill House – Home of the Association of Pennsylvania State College and University Faculties union office. For more information, visit their website.
Washington House – Washington House is home to the Office of Diversity and Social Justice. This office advances Millersville University's commitment to social justice, inclusive excellence, and numerical, intellectual, and interactional diversity by serving as an integral component of the Office of the President. For more information, visit their website.
York House – Several Music Department faculty offices are housed here.
Not in Use/Slated for Renovation
Bard Hall – Bard Hall, a men's residence, was named for Judge Guy Kurtz Bard (1915), a 1913 and 1914 graduate of the normal school who taught mathematics and school management before serving as a public school teacher, an administrator, and a member of the Board of Trustees of the Normal School. In the 1930s he served as President of the Board of Trustees for four years. In 1939 he was appointed to a federal court position by Franklin D. Roosevelt. This building has since faded from full-time use since the completion of East, South, and West Villages over the last several years. It is currently used as temporary housing for students who come to campus early due to sports engagements or Marching Band Camp.
Brooks Hall (Gymnasium) – Brooks Hall was the college's second gymnasium and served as headquarters for women's sports until the closing of the building in 2017. Dr. Edward Brooks (1855-1883) was a teacher of mathematics and third principal of the normal school. There are several proposals on the table in the University Master Plan to use Brooks and other inactive buildings on campus.
Lehigh Hall – Lehigh Hall, formerly known as Gilbert Hall until 2017 and as Roddy Hall until 1964. It was originally named for H. Justin Roddy and was a men's residence. It was rededicated in 1964 and named for Sarah Hughes Gilbert (1881-1912), an 1877 and 1879 graduate of the normal school who taught mathematics and, later, literature and elocution. With the rededication in 1964, it became a women's residence. With the naming of Building A in the West Village as Gilbert Hall, this building was renamed Lehigh Hall. This building has also faded from full-time use as the remaining Villages residence halls were completed and currently has some plans on the table in the University Master Plan.
University Affiliated Buildings
The HUB – The HUB is located in the First United Methodist Church at 121 North George St, just up the road from campus, and houses several student resources including the Campus Cupboard, Campus Closet, and Free Lunch Thursdays/French Toast Fridays. The Campus Cupboard provides food to students who are in need free of charge and the Campus Closet does the same for business clothing for interviews.
Newman House – The Newman House is the location of the Catholic Campus Ministry at Millersville University. They also provide several resources to the student community regardless of faith affiliation such as game nights and Wednesday Night Dinner.
Campus Features
Alumni Bell Court – The Alumni Bell Court, including the tower that houses the 1875 bell from Old Main (the first building of the University's history) was completed in 1980. It rings every hour and is dedicated to the former graduating classes of the University.
Prince Street Garage – One of our main parking garages located right near the Winter Visual and Performing Arts Center hosts over 350 cars. For more information about parking, visit their website.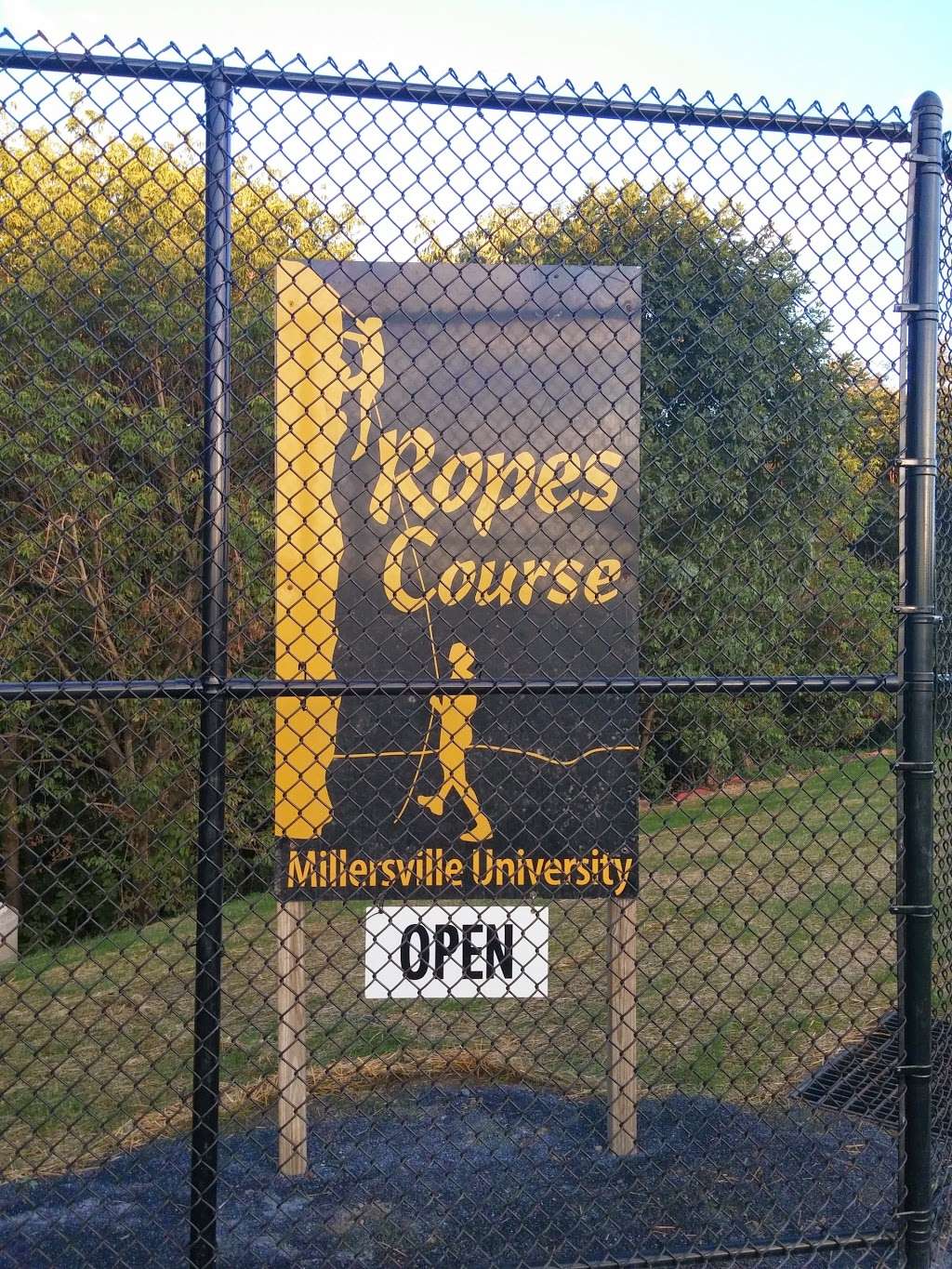 Ropes Course – The Millersville University Ropes Challenge course provides a unique teaching environment, where diverse groups can experience varying levels of physical, mental, and/or emotional risks. For more information, visit their website.
Ware Visual and Performing Arts Center – Millersville University purchased the 42 North Prince St location in 2010. In September 2011, it was rededicated as the Ware Center, honoring Paul W. and Judy S. Ware. Located in the heart of downtown Lancaster, The Ware Center is host to many of our undergraduate, graduate, and adult learning courses at Millersville University. With over 20 classrooms, The Ware Center accommodates classes for nearly 1000 Millersville University students every Fall and Spring semester.
Water Tower – Millersville proudly boasts a water tower that feeds the University's water needs from a well. It has been one of the cultural icons of the University for a long time.